The 2021 Subaru Love Promise Customer and Community Commitment Award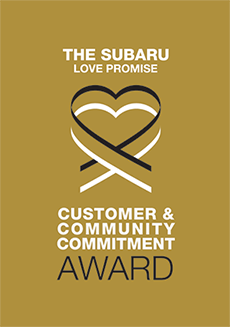 We've been nationally recognized for our dedication to our customers, our community, and the Subaru Love Promise.
We're honored to receive the 2021 Subaru Love Promise Customer and Community Commitment Award. This award nationally recognizes elite Subaru retailers who provide an exceptional customer experience at every interaction with Subaru. These retailers have also demonstrated an outstanding commitment to supporting passions and causes in their local communities in important areas such as the environment, community, health, education, and pets.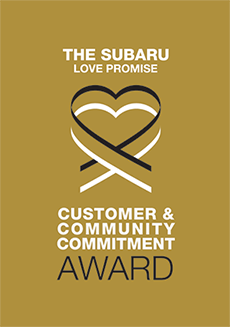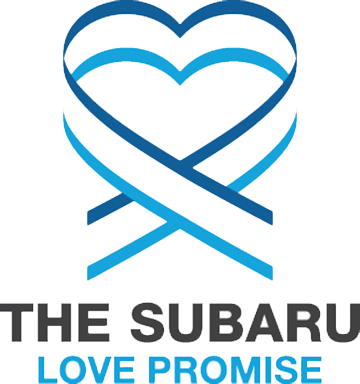 What is the Subaru Love Promise?
Subaru and our retailers believe in making the world a better place and the Subaru Love Promise is our vision of respecting all people. This is our commitment to show love and respect to our customers and to work to make a positive impact in the world.
How is Waikem Subaru dedicated locally to the Love Promise?
Waikem Subaru is committed to Love Promise through our many charitable donations. Our Dealer Principal is former United Way CEO of Year who sits on boards across the county that promote charity, health, welllness, education and environment. The community has been good to us for 75 years, charity is our way of saying thank you for letting us share in this great community.
National Park Foundation, Stark Parks
Pathway Caring for Children, Make-A-Wish, Meals on Wheels Association, Stark County Library
Western Stark Free Clinic
Love Promise Stories from Waikem Subaru
Subaru and Waikem Subaru believe in making a positive impact on the communities in which we live and work. We uphold that belief through our Love Promise Community Commitment. Every month, we select inspiring stories from customers and partners from around our area who strive to support our collective commitment and feature them here
Mandy's Story - Shetzi P
We would love to tell you about Mandy's story. Mandy was brought to the Stark County Humane Society (SCHS) because her family fell ill and was not able to care for her any longer. Mandy was very matted and miserable and wasn't able to see because her hair was covering her eyes. Upon our vet team's initial intake exam, they found that Mandy needed a routine dental and a few teeth that needed extracted. Her hair was so matted that we could not determine if she was spayed or not. Once under anesthesia our vet groomed and preformed a routine dental and extracted a few teeth. Mandy was also heartworm tested, current on all vaccinations and microchipped. Once she lost all of that matted hair she looked and felt like a new woman. The morning she became available for adoption she found her new forever home. We would like to Thank Waikem Subaru, and Waikem Auto Family for their continuous support in helping our homeless animals in the community.
---
Al's Story - Shetzi P
We would like to tell you about Al's Story. Al was brought to the Stark County Humane Society (SCHS) at the beginning of September as a stray from the NW side of Canton. When he came to us, he was very sick with a Upper Respiratory Infection (URI), our medical team started Al on medication. Al appeared to be responding to the treatment for the URI. Unfortunately, his right eye started to get inflamed and wasn't getting any better with treatment. Al's eye was still agitating him. So, our veterinarian decided to remove his right eye since it wasn't showing any improvement. We made sure Al was given all of his vaccinations, neutered and microchipped. With some healing and lots of love his right eye healed nicely. When he was ready for adoption everyone is so excited to see him ready to find his new forever home. This handsome fella was adopted on October 16th, 2020 to a wonderful family. Since Al's adoption he has adjusted well to his forever family and is living his best life. On behave of our furry friends here at the Stark County Humane Society, we would like to Thank Waikem Subaru and the Waikem Auto Family for their continuous support!!!!
---
New Bikes thanks to Waikem Subaru! - Joy K
We want to thank Waikem Subaru for helping us get new bikes! My children needed new bikes, but I couldn't find one I could afford this summer. We found out that Waikem Subaru was collecting bikes for the community and donating them with Perry Helping Perry, a local charity group. We went to Waikem Subaru and found more than 50 bikes in their showroom! My kids each picked the exact one they wanted, and we rode home so happy! The sales staff was all very patient and even helped my kids as they searched through the choices. Thanks to Waikem Subaru my children were all able to get a brand-new bike this summer! We are so grateful to them because they see the value of community and we know they are always there to help people in need! These are brand new bikes; I don't know how we could've ever got them bikes this year if it wasn't for our local Waikem Subaru dealership! Thank you from the bottom of my heart to Bob, Dustin and everyone else at Waikem Subaru!
---
Another Special Moment with Waikem Subaru! - Ronald M
We couldn't be happier to start off the year in 2020 with receiving a check for over $20,000 from Subaru and Waikem to our organization Perry Helping Perry. The check presentation was truly a special moment as we surprised Perry students and residents at halftime at our local rivalry basketball game, Perry vs Central. Students and Parents came to tears over the support from Subaru towards our organization! With this check we are now able to open up a 1,500 square foot building and offer a clothes closet to our local residents in need of better clothing, shoes, jackets and other everyday clothing. Subaru and Waikem has been helping Perry Helping Perry over the years, and it's truly helped us get to the next level! Thank you Subaru!
---
Waikem Subaru Truly Loves Pets! - Jeff R
Waikem Subaru once again hosted a successful Subaru Loves Pets Event. In October, customers visited our Massillon showroom and donated items to Second Chance for Animals. Second Chance for Animals is a local, volunteer-based no-euthanization animal rescue and adoption organization. These donations help the rescue volunteers take care of the pets as they work to find them homes. Our Subaru dealership was once again filled with items like dog food, cat litter, pet toys, cleaning supplies and even monetary donations! We once again welcomed Second Chance for Animals into the showroom for a special Saturday event as well. Dogs and cats filled our showroom as customers applied for adoption and met the animals looking for their forever home. We once again thank the community for another wonderful Subaru Love Promise Event. Every year we ask the public to help those in need, and you go above and beyond on the call of duty. Other charities we work at Waikem Subaru include Aultman Foundation, Aultman Cancer Center, Stark Parks, local schools, Perry Helping Perry and more! Helping those in need, now that's the Waikem Way!
---
Waikem Subaru Donates to Aultman Cancer Center - Sheri S
We can't thank Waikem Subaru enough for the generous gifts that they shared with the patients in our Breast Care Center and Cancer Center! Our patients will appreciate the donated blankets and art kits that Subaru and the Leukemia and Lymphoma Society provided. Thank you for your generosity!
---
LLS Loves Waikem Subaru - KERRI P
We are excited to be partnering with you again for Subaru Loves to Care in June. Thank you to the staff and Subaru buyers! On behalf of our patients and their families, you make a difference!
---
Helping our pet foster parents - Lynda M
We want to thank Waikem Subaru for once again holding a month-long donation drive for our animal rescue. The Waikem Subaru dealership and its customers donated supplies like food, pet toys, and collars and leashes to our animal rescue, Second Chance for Animals. Second Chance for Animals is 100 percent volunteers, and when our pet parents decide to foster a dog looking for a forever home, they sometimes spend their own money on many of these supplies. We thank Waikem Subaru for providing our pets with everything they need to have a healthy and happy life. This is the third consecutive October that we have partnered with Waikem Subaru. In addition to this donation drive, they even allow us to bring dogs and cats to the showroom on Saturdays in October so we can help them find their forever home. Subaru Loves Pets is more than a slogan in my opinion. Waikem Subaru and Waikem Subaru customers really do love pets, and you can tell every year when you see how accommodating this dealership is to the volunteer staff at Second Chance for Animals. We sincerely thank Waikem Subaru for helping our animal rescue every year.
---
Enhancing our CPR Training! - Mark M
The Perry Township Fire Department was greatly enhanced thanks to Waikem Subaru's donation of a CPR mannequin to our fire department. The cost of training aids is very expensive, however, with donations like the one from Waikem Subaru we are able to stretch our budget a little further. Therefore, we are extremely gracious of their generosity in providing our department with this CPR training mannequin as well as all they do to make our township a better place. The Waikem family always supports the first responders in our community, and I am very grateful for this donation. We will able to improve our CPR thanks to Waikem Subaru.
---
CPR Training Made Easy - Tim B
Waikem Subaru recently donated the Jackson Township Fire Department a full-sized CPR mannequin. This is our first full-sized mannequin in many years. We are very grateful to Waikem Subaru for this donation because it's a state of the art mannequin and it will be used for training our staff and the community. Our CPR training courses have saved lives within our community; however, the interaction with others has been tremendous! Classes are taught to everyone from the layperson, to school teachers and coaches, as well as many local businesses. As an American Heart Association-certified training site, the Jackson Township Fire Department hosts 2-3 courses each month and trains approximately 300 people every year. With one similar unit available for testing, an estimated 300 additional people will have the opportunity to be trained thanks to Waikem Auto Family's generous donation. Working with groups, such as the Waikem Subaru has been an awesome experience for all involved. We are very grateful for this donation. The Waikem family are proud supporters of first responders, and we are lucky to have their support in this community.
---
Providing Comfort to Cancer Patients - Jeff R
Waikem Subaru partnered with Aultman Hospital to provide comfort kits to our area's cancer patients. We thank the staff at Waikem Subaru for going above and beyond the call of duty for this event. The Waikem Subaru staff and customers donated items to cancer patients that included water bottles, blankets, tissues, lotion, adult coloring books and hard candy. Then Aultman Staff and Waikem Subaru employees built more than 100 comfort kits that were given to cancer patients. These kits provide comfort and help cancer patients because these much-needed items go a long way to brighten someone's day. Our doctors already are telling us that patients light up when they give them the kits. We thank Waikem Subaru and everyone with the Subaru brand for choosing Aultman as a partner. This project is the definition of the Subaru's Love Promise and shows Subaru's commitment to its community. We couldn't be happier with the results of this partnership
---
A Family Reunion - Kerri P
When Subaru shows up it feels like one big happy family! One staff member shares about her stick-shift Outback while another talks about how her Subaru is a perfect family vehicle. Subaru does indeed Love to Care! Greeted with hugs and handshakes, Waikem Subaru shared the love with the patients, families and staff of Aultman Hospital. This was not the first, nor will it be the last, visit from the incredible Waikem staff. Subaru does more than sell cars. They care. They live out their belief that everyone deserves to live a healthy life through their partnership with Aultman that goes beyond this yearly delivery of blankets, craft kits and notes of support. One of the Aultman staff remarked that these gifts are a reminder to their patients that they are not alone and the circle of care goes beyond the walls of the hospital. The Leukemia & Lymphoma Society Northern Ohio chapter is honored to be a part of the Subaru family and can't wait for the next reunion!
---
Our Best Donation Drive Ever! - Erica M
Dear Waikem Subaru Managers and Staff: WOW! Words cannot express how grateful Second Chance for Animals is that Waikem chose us for the Subaru Loves Pet Month. The amount of donations collected for the month of October will help our group continue to provide the resources needed to care for the dogs and cats we rescue. The Pet Adoption Event on October 21 was a big hit for our 4 puppies and 1 kitten we had at the event for adoption. Three of the puppies found their forever homes that day. Plus we had many others interested in the other dogs / cats we have up for adoption. A number of Waikem customers stopped in to drop off donations after receiving the flyer in the mail, hearing the advertisement on the radio or viewing the commercial on tv. Two Waikem employees also help to load two Subaru cars with the donated items and deliver it to our storage garage.Thank you again to all the Waikem employees who helped to make this event a success for Second Chance. Sincerely, Erica Moser
---
A Beautiful Friendship! - Polly M
Last month the Leukemia & Lymphoma Society had the pleasure of joining forces with Subaru to deliver blankets to Cleveland Clinic Taussig Cancer Center.Delivering a blanket is an amazing way to make a first impression. It was heartwarming to meet new people awaiting treatment and introducing Subaru and LLS to them for the first time with a fluffy blanket. This partnership has reminded us that our organizations have the opportunity to make a difference in the smallest details of people's lives. By showing concern in their times of trial, we truly bring light to the darkness of cancer.We look forward to continuing our new found friendship with Waikem Subaru and making someday today.
---
Waikem Subaru "Stuffs a Subaru" for shelter pets. - Bridget M
Love. It's what makes a Subaru a Subaru. And during the Akron Pet Expo, Waikem Subaru extended that love to local shelters. Waikem sponsored a "Stuff The Subaru" opportunity to raise money and products.They filled up a Subaru Forester full of dog and cat food, toys, treats and supplies, distributed equally to local pet rescues. Also, many dogs and cats were rescued into their forever homes!
---
One of our largest fundraisers ever! - Sherri D
Waikem Subaru helped us have one of our largest fundraisers ever! We are Second Chance for Animals, a locally owned Pet Rescue that fosters dogs and cats and helps them to find a home. In October 2016, we partnered with Waikem Subaru for a fundraiser and donation drive. During a Pet Adoption Event inside their showroom, three cats and one dog were adopted. One cat was even taken home by a member of Waikem's Internet Sales Staff! Through their efforts, Waikem Subaru raised thousands of dollars worth of supplies including pet food, pet toys, blankets, leashes, collars and more. Our foster families will really appreciate having these supplies, and it feels good knowing there are so many people in our community who care about animals in need. We rely on volunteers to keep our rescue going strong. Through Waikem Subaru's efforts, we are going to be find homes for many dogs and cats in need. We especially thank Craig Waikem and his family for allowing us to hold a pet adoption event and getting the word out on the month-long fundraiser. Bob Russell and his sales staff did a wonderful job promoting the event. Second Chance for Animals is truly appreciative of the effort and professionalism that was shown towards our group! We had fun and most importantly did many adoptions due to this exposure. What a great partnership! Thanks again!
---
School Supply Donation - Christopher P
Dear Waikem Subaru and Subaru of America, On behalf of St. Joan of Arc School, teachers, staff, students and families, I would like to thank you for your generous donation of school supplies. I am so happy that Waikem Subaru chose St. Joan of Arc School to be a part of Subaru Loves Learning. The donated supplies will benefit our parents as well; they will not need to purchase the items that were donated for their children. Please share our thanks to Subaru of America as well.
---
Great Donation Drive - Patty K
Perry Helping Perry is grateful to Waikem Subaru for holding a large donation drive at their showroom in June 2015. Bringing four large boxes of school supplies and food now is very helpful, because in the summer months we a have a large need with children out of schools. Unfortunately, donations are sometimes low in the summer, so thank you Waikem Subaru for this large donation when we really need it. The school supplies come at the right time, because these students need school supplies and we never have as many supplies as we need for students. Currently we have a food pantry, clothes closet, prom boutique, bike program, back to school program, snack sacks (like blessings in a backpack), Christmas program, school shoe vouchers, Holiday turkeys/hams etc. We do not have a home of our own, but the community have opened up their arms and allowed to house different programs in different churches etc.. We have donated to more than 350 families this year, people of all ages. Thank you for Waikem Subaru for helping to make life a little better for everyone in Perry Township.
---
Fostering Hope - Jacquie B
Waikem Subaru has included Pathway Caring for Children in the Share the Love event for the last two years. Pathway has been serving children and families since 1973. Our mission is to empower children and families to realize their potential and achieve the possibilities of their lives through innovative mental health, foster care and adoption services. Thanks to the support of Waikem Subaru and the Share the Love event we have been able to recruit, train and support more foster parents, who provide caring homes to abused, neglected and abandoned children. We have 62 foster children in a Pathway home today. In the past two years, Waikem Subaru has donated more than $23,000 through the Share the Love Event. Thank you Waikem Subaru!
---
Supporting the Massillon Lions Club's Annual Entertainment Show - Bob R
Every year Waikem Subaru supports the Massillon Lions Club's annual entertainment show. Our annual shows benefit the Lions Club efforts on behalf of sight and hearing conservation as well as community project. The Massillon community always looks forward to the show, and Waikem Subaru's sales manager Bob Russell directs the show every year, as he's been a member of the Lions Club for 24 years. The Waikem Family helps us out every year with a sponsorship in our program, and many employees come out to the see the show. The family also lets me hang posters at all of our franchises to bring awareness into the show. We are already looking forward to 2015's show, which will be a tribute to our Armed Forces. Waikem Subaru has already pledged to again help us with what could be our biggest show yet. We thank everybody at Waikem Subaru who helps us make this a wonderful event every year.
---
Great Strides Walk-A-Thon - Adam L
My daughter Kendall was diagnosed with cystic fibrosis, and our family participates in the annual Great Strides event to work toward a cure by raising money and awareness to help beat this disease. We call our team Kendall's Krew, and every year, Waikem Subaru helps our team raise money for the local Walk-A-Thon. I am an employee in the parts department, and every year, Waikem Subaru lets me host an employee luncheon. My fellow co-workers make a potluck lunch, and everyone donates money for a good cause and gets a good bite to eat. In the three years we've hosted the lunch, we've been able to raise more than $2,000! Waikem Subaru and especially the Waikem family have been great partners with Kendall's Krew and Great Strides. I'm lucky to have such great co-workers who are willing to go out of their way to dedicate their time and contribute donations to help find a cure for cystic fibrosis.
---