The 2021 Subaru Love Promise Customer and Community Commitment Award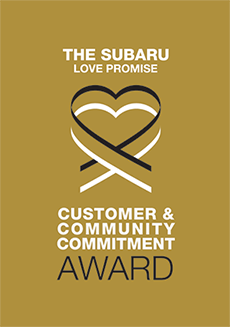 We've been nationally recognized for our dedication to our customers, our community, and the Subaru Love Promise.
We're honored to receive the 2021 Subaru Love Promise Customer and Community Commitment Award. This award nationally recognizes elite Subaru retailers who provide an exceptional customer experience at every interaction with Subaru. These retailers have also demonstrated an outstanding commitment to supporting passions and causes in their local communities in important areas such as the environment, community, health, education, and pets.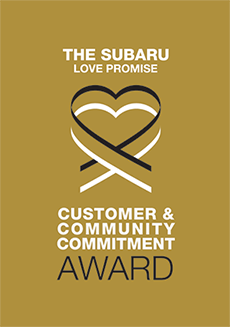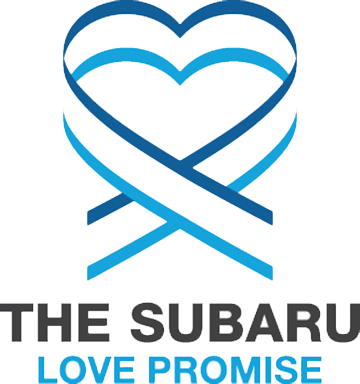 What is the Subaru Love Promise?
Subaru and our retailers believe in making the world a better place and the Subaru Love Promise is our vision of respecting all people. This is our commitment to show love and respect to our customers and to work to make a positive impact in the world.
How is Waikem Subaru dedicated locally to the Love Promise?
Waikem Subaru is committed to Love Promise through our many charitable donations. Our Dealer Principal is former United Way CEO of Year who sits on boards across the county that promote charity, health, welllness, education and environment. The community has been good to us for 75 years, charity is our way of saying thank you for letting us share in this great community.
National Park Foundation, Stark Parks
Pathway Caring for Children, Make-A-Wish, Meals on Wheels Association, Stark County Library
Western Stark Free Clinic
Love Promise Stories from Waikem Subaru
Subaru and Waikem Subaru believe in making a positive impact on the communities in which we live and work. We uphold that belief through our Love Promise Community Commitment. Every month, we select inspiring stories from customers and partners from around our area who strive to support our collective commitment and feature them here
Mandy's Story - Shetzi P
We would love to tell you about Mandy's story. Mandy was brought to the Stark County Humane Society (SCHS) because her family fell ill and was not able to care for her any longer. Mandy was very matted and miserable and wasn't able to see because her hair was covering her eyes. Upon our vet team's initial intake exam, they found that Mandy needed a routine dental and a few teeth that needed extracted. Her hair was so matted that we could not determine if she was spayed or not. Once under anesthesia our vet groomed and preformed a routine dental and extracted a few teeth. Mandy was also heartworm tested, current on all vaccinations and microchipped. Once she lost all of that matted hair she looked and felt like a new woman. The morning she became available for adoption she found her new forever home. We would like to Thank Waikem Subaru, and Waikem Auto Family for their continuous support in helping our homeless animals in the community.
---
Al's Story - Shetzi P
We would like to tell you about Al's Story. Al was brought to the Stark County Humane Society (SCHS) at the beginning of September as a stray from the NW side of Canton. When he came to us, he was very sick with a Upper Respiratory Infection (URI), our medical team started Al on medication. Al appeared to be responding to the treatment for the URI. Unfortunately, his right eye started to get inflamed and wasn't getting any better with treatment. Al's eye was still agitating him. So, our veterinarian decided to remove his right eye since it wasn't showing any improvement. We made sure Al was given all of his vaccinations, neutered and microchipped. With some healing and lots of love his right eye healed nicely. When he was ready for adoption everyone is so excited to see him ready to find his new forever home. This handsome fella was adopted on October 16th, 2020 to a wonderful family. Since Al's adoption he has adjusted well to his forever family and is living his best life. On behave of our furry friends here at the Stark County Humane Society, we would like to Thank Waikem Subaru and the Waikem Auto Family for their continuous support!!!!
---
New Bikes thanks to Waikem Subaru! - Joy K
We want to thank Waikem Subaru for helping us get new bikes! My children needed new bikes, but I couldn't find one I could afford this summer. We found out that Waikem Subaru was collecting bikes for the community and donating them with Perry Helping Perry, a local charity group. We went to Waikem Subaru and found more than 50 bikes in their showroom! My kids each picked the exact one they wanted, and we rode home so happy! The sales staff was all very patient and even helped my kids as they searched through the choices. Thanks to Waikem Subaru my children were all able to get a brand-new bike this summer! We are so grateful to them because they see the value of community and we know they are always there to help people in need! These are brand new bikes; I don't know how we could've ever got them bikes this year if it wasn't for our local Waikem Subaru dealership! Thank you from the bottom of my heart to Bob, Dustin and everyone else at Waikem Subaru!
---
Another Special Moment with Waikem Subaru! - Ronald M
We couldn't be happier to start off the year in 2020 with receiving a check for over $20,000 from Subaru and Waikem to our organization Perry Helping Perry. The check presentation was truly a special moment as we surprised Perry students and residents at halftime at our local rivalry basketball game, Perry vs Central. Students and Parents came to tears over the support from Subaru towards our organization! With this check we are now able to open up a 1,500 square foot building and offer a clothes closet to our local residents in need of better clothing, shoes, jackets and other everyday clothing. Subaru and Waikem has been helping Perry Helping Perry over the years, and it's truly helped us get to the next level! Thank you Subaru!
---
Waikem Subaru Truly Loves Pets! - Jeff R
Waikem Subaru once again hosted a successful Subaru Loves Pets Event. In October, customers visited our Massillon showroom and donated items to Second Chance for Animals. Second Chance for Animals is a local, volunteer-based no-euthanization animal rescue and adoption organization. These donations help the rescue volunteers take care of the pets as they work to find them homes. Our Subaru dealership was once again filled with items like dog food, cat litter, pet toys, cleaning supplies and even monetary donations! We once again welcomed Second Chance for Animals into the showroom for a special Saturday event as well. Dogs and cats filled our showroom as customers applied for adoption and met the animals looking for their forever home. We once again thank the community for another wonderful Subaru Love Promise Event. Every year we ask the public to help those in need, and you go above and beyond on the call of duty. Other charities we work at Waikem Subaru include Aultman Foundation, Aultman Cancer Center, Stark Parks, local schools, Perry Helping Perry and more! Helping those in need, now that's the Waikem Way!
---
Waikem Subaru Donates to Aultman Cancer Center - Sheri S
We can't thank Waikem Subaru enough for the generous gifts that they shared with the patients in our Breast Care Center and Cancer Center! Our patients will appreciate the donated blankets and art kits that Subaru and the Leukemia and Lymphoma Society provided. Thank you for your generosity!
---
LLS Loves Waikem Subaru - KERRI P
We are excited to be partnering with you again for Subaru Loves to Care in June. Thank you to the staff and Subaru buyers! On behalf of our patients and their families, you make a difference!
---
Helping our pet foster parents - Lynda M
We want to thank Waikem Subaru for once again holding a month-long donation drive for our animal rescue. The Waikem Subaru dealership and its customers donated supplies like food, pet toys, and collars and leashes to our animal rescue, Second Chance for Animals. Second Chance for Animals is 100 percent volunteers, and when our pet parents decide to foster a dog looking for a forever home, they sometimes spend their own money on many of these supplies. We thank Waikem Subaru for providing our pets with everything they need to have a healthy and happy life. This is the third consecutive October that we have partnered with Waikem Subaru. In addition to this donation drive, they even allow us to bring dogs and cats to the showroom on Saturdays in October so we can help them find their forever home. Subaru Loves Pets is more than a slogan in my opinion. Waikem Subaru and Waikem Subaru customers really do love pets, and you can tell every year when you see how accommodating this dealership is to the volunteer staff at Second Chance for Animals. We sincerely thank Waikem Subaru for helping our animal rescue every year.
---
Enhancing our CPR Training! - Mark M
The Perry Township Fire Department was greatly enhanced thanks to Waikem Subaru's donation of a CPR mannequin to our fire department. The cost of training aids is very expensive, however, with donations like the one from Waikem Subaru we are able to stretch our budget a little further. Therefore, we are extremely gracious of their generosity in providing our department with this CPR training mannequin as well as all they do to make our township a better place. The Waikem family always supports the first responders in our community, and I am very grateful for this donation. We will able to improve our CPR thanks to Waikem Subaru.
---
CPR Training Made Easy - Tim B
Waikem Subaru recently donated the Jackson Township Fire Department a full-sized CPR mannequin. This is our first full-sized mannequin in many years. We are very grateful to Waikem Subaru for this donation because it's a state of the art mannequin and it will be used for training our staff and the community. Our CPR training courses have saved lives within our community; however, the interaction with others has been tremendous! Classes are taught to everyone from the layperson, to school teachers and coaches, as well as many local businesses. As an American Heart Association-certified training site, the Jackson Township Fire Department hosts 2-3 courses each month and trains approximately 300 people every year. With one similar unit available for testing, an estimated 300 additional people will have the opportunity to be trained thanks to Waikem Auto Family's generous donation. Working with groups, such as the Waikem Subaru has been an awesome experience for all involved. We are very grateful for this donation. The Waikem family are proud supporters of first responders, and we are lucky to have their support in this community.
---