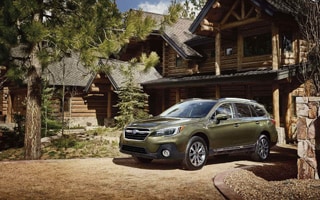 The
2019 Subaru Outback
is
for sale in Massillon, Ohio at Waikem Subaru
. The Outback is now safer than ever because EyeSight and All Wheel Drive are standard on every model. The Outback is simply one of the most well-built, well engineered vehicles on the road today, and we invite you to the Waikem Auto Mile to see why it's the perfect vehicle for your driveway.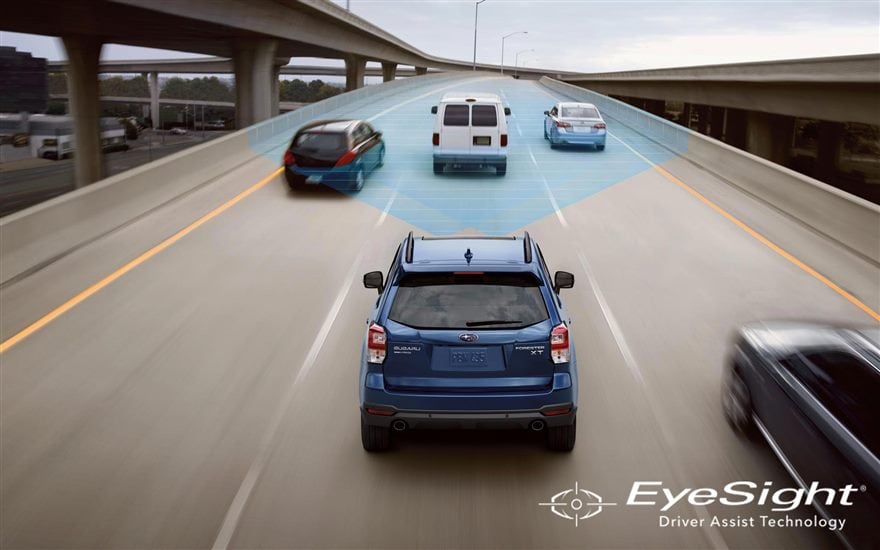 EyeSight Standard
The biggest update to the
2019 Subaru Outback
is the standard Subaru EyeSight. EyeSight is the next step forward in vehicle safety and includes adaptive cruise control, pre-collision braking, throttle management, lane departure warning and lane keep assist.
We'll explain them all in greater detail below, but the most important thing to understand is that EyeSight keeps you and everyone around you safer when you're driving.
Independent studies by experts say that Subaru EyeSight reduces the rate of insurance claims by 41 percent. The Subaru Outback is an IIHS Top Safety Pick Plus, the best safety award in the industry, thanks to EyeSight Technology. IIHS says that Subarus equipped with EyeSight are 85 percent less likely to be involved in rear-end collisions with injury.
So what does EyeSight do?
Adaptive Cruise Control –Set a safe distance and a safe speed, the Outback will do the rest. Your vehicle will automatically slow down and speed up based the traffic around you, and you will always maintain a safe distance around other vehicles.
Lane Keep Assist and Sway Warning – EyeSight monitors your position on the road and will alert you if you sway out of your lane. If you don't act quickly enough, this system can even steer you back in to your lane.
Pre-Collision Braking – This system will alert you of stopped traffic ahead and even apply the brakes if a collision seems imminent. A study by the Insurance Institute of Highway Safety found that EyeSight cuts the rate of likely pedestrian-related insurance claims by 35 percent.
Pre-Collision Throttle Management – EyeSight detects objects in front of the vehicle that you are likely to hit. It will reduce power from the engine to help minimize the possible impact force and frontal impact damage.
A backup camera is also standard on every Subaru Outback.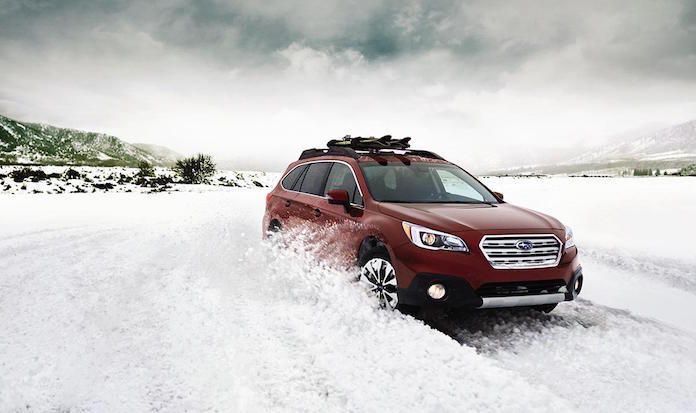 Safer in the snow
In the winter, nothing is safer than a
Subaru
. The all wheel drive system that comes standard on every Subaru Outback makes it the best "bad weather vehicle," according to the experts. Power is flowed to all four wheels, and your vehicle instantly reacts to wet or slick roads.
In the summer, owning an Outback makes life more fun. With 8.7 inches of ground clearance and this all wheel drive system, you can easily take your Outback on a camping, hiking, or fishing trip.
Subaru Outbacks have also been voted the safest/best vehicles for traveling with pets and children thank to this commitment to safe driving.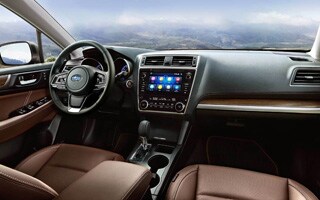 Entertainment
The
Subaru Outback
is built to keep you safe and entertained on the daily commute and the long weekend road trip.
Apple CarPlay and Android Auto come standard on every 2019 Subaru Outback. These systems make it safer and easier than ever to utilize your phone's capabilities while driving.
Your phone's map app will appear on a 6.5-inch touchscreen.
You can also make and take hands-free phone calls, send text messages through AI and incoming texts will even be read over the speakers.
These systems make it easy to play the songs, podcasts and audiotbooks from your phone over the speakers. You can even access apps like NPR One, Vox Media, Spotify, Stitcher, Pandora, iHeartRadio, Amazon Music and MLB At Bat.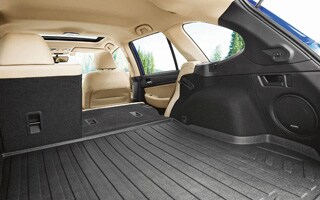 Comfort
This is the roomiest Outback ever maxing out with 73.3 cubic feet of cargo room. It's a five-passenger SUV with a 60-40 split rear seat. Cargo room maxes out at 108.1 cubic feet. Everyone always has plenty of leg and hip room.
You can get an Outback with great optional features like heated seats (cloth or leather), a sunroof, heated steering wheel, heated side mirrors and dual climate controls.
The Outback has multiple USB ports so everyone's devices stay charged on that next long road trip.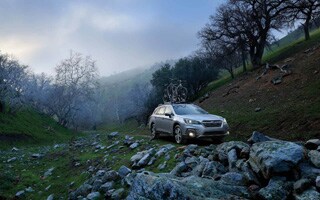 Under the hood
The Outback is available in four cylinder or six cylinder engines. The 2.5L V4 gets up to 32 highway MPG and produces 175 horsepower.
The 3.6L V6 Outback produces 256 horsepower and maxes out at 27 highway MPG.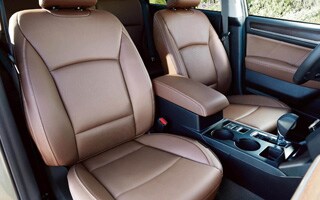 The Waikem Way
At Waikem, buying a Subaru is more than a monetary transaction. We're a proud, locally owned small business. The Waikem family has been selling cars in Stark County for more than 75 years, and we're proud to say the second and third generation of Waikems are in the store every day helping you find the perfect Subaru.
We believe in giving back to the community, that's why we hold fundraiser for local animal rescues, the Stark County Human Society, Aultman Cancer Center, Stark Parks, Tuslaw, Perry, Jackson, Central Catholic and Massillon Schools, Pathway Caring for Children, Perry Helping and the Perry Township Rotary Club.
We believe in the phrase "Love" when it comes to Subaru, and we're proud to say with your help we've donated thousands of dollars in donations and supplies to local charities in need.
We make it easy and affordable to put the Outback in your driveway thanks to our affordable prices, reasonable payments and low interest rates.