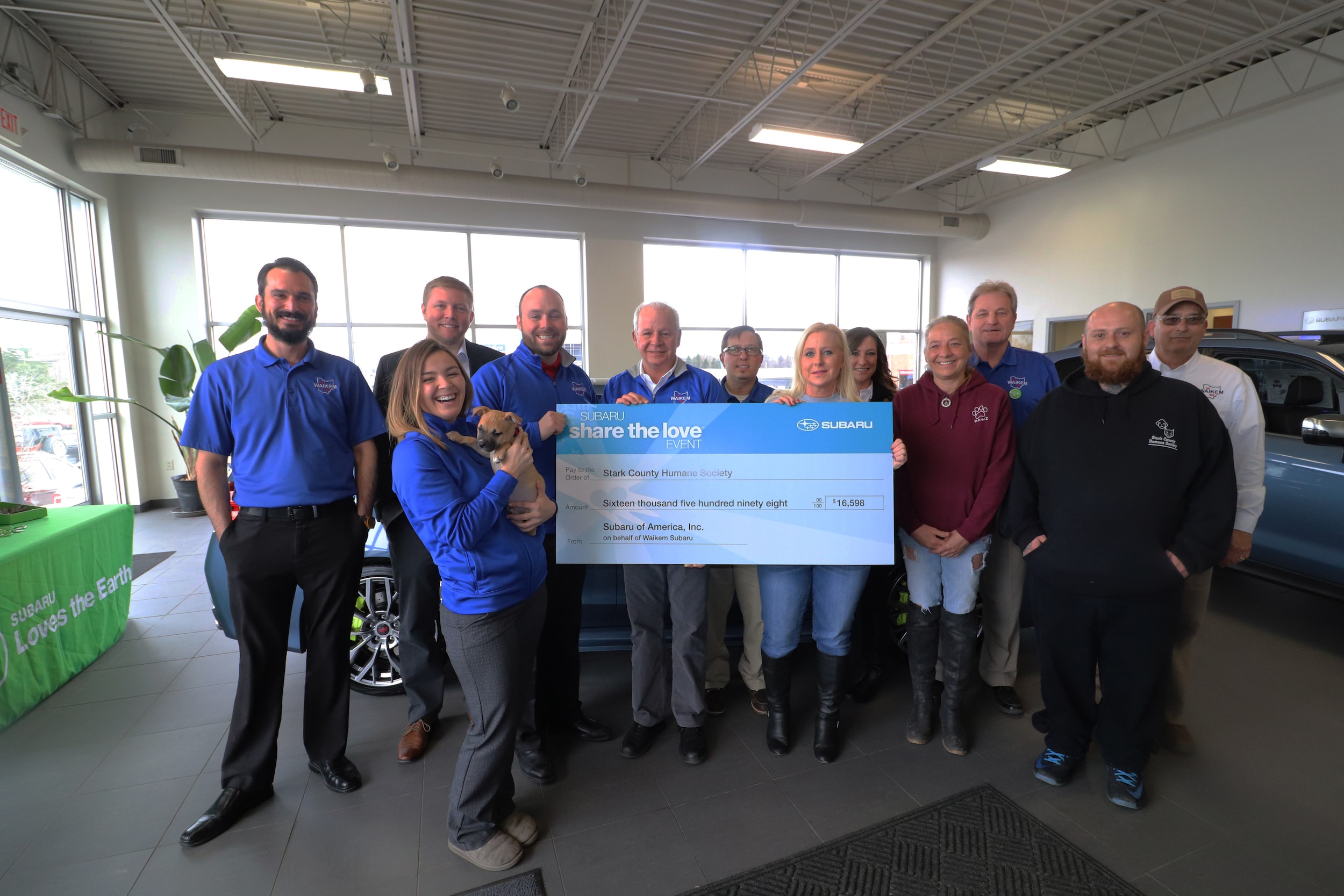 Today
Waikem Subaru
presented a record donation of $16,598 to the Stark County Humane Society. The Stark County Humane Society was our partner in the annual Share the Love Campaign in Dec. 2017. During Share the Love, $250 is donated to charity every time a
new Subaru
is purchased. The
Stark County Humane Society
was our local Share the Love charity partner. National Share the Love partners include the ASPCA, Make-A-Wish, Meals on Wheels and the National Park Foundation.
"We are honored to present this check to the Stark County Humane Society today," said Adrian Waikem, third generation Waikem family member and sales manager at Waikem Subaru. "$16,598 is our all-time record donation. I'm really proud of our staff and I'm thankful to the community for helping us make this possible."
Along with the donation, Waikem Subaru also held an adoption drive with the Stark County Humane Society in December 2017. All five dogs eligible for adoption that day went home with their new family.
"This is just wonderful," said Bob Russell, sales manager at Waikem Subaru. "The Humane Society was a great partner."
The Humane Society is one of many community non-profits that Waikem Subaru works with each year. Others include Second Chance for Animals, Perry Helping Perry, the Leukemia and Lymphoma society, Stark Parks, Jackson Local Schools, Perry Local Schools, Central Catholic High School, St. Joan of Arc Schools, Tuslaw Local Schools, Stark Parks and many others.
Nationally, Subaru has donated more than $115 million to charity in ten years thanks to the Subaru Share the Love Event.
We at Waikem thank the Humane Society for their excellent partnership on this event. We also thank our community for their support in every project. Every time we ask the community to help us support projects, you step up and help us go above and beyond what we could even expect.