The
2017 Subaru Forester
just arrived at
Waikem Subaru
with style upgrades and even more advanced safety features. If you thought owning a Subaru was the peak of ride quality, it gets even better with this all-new model.
New Safety
The
2017 Subaru Forester
has the updated
Subaru EyeSight Driver Assist Technology
. If you don't know what that is already, EyeSight Driver Assist Technology is cameras and sensors that watch everything happening in front of you. Systems like adaptive cruise control, lane departure and sway warning, pre-collision braking and pre-collision throttle management help maintain a safe distance around the vehicles around you. The vehicle will even apply the brakes if danger is detected. It's the vehicle of the future, made today, and it's never been this safe to drive a vehicle.
So for this year, the
2017 Subaru Forester
gets updated EyeSight that includes color cameras for a longer, wider field of vision. The Forester now has a Lane Keep Assist feature that gently guides the vehicle back to the center of its lane if sway is detected.
The new EyeSight technology now offers the optional Blind Spot Detection and Rear Cross Traffic Alerts. This warns of potential dangers from vehicles in the blind spot or approaching from either side when backing up.
A new high beam assist option automatically adjusts between the high and low beams based on driving conditions. Finally, there is a new reverse automatic braking system that helps when you're backing up. It automatically hits the brakes if it sees an object you do not when backing up.
Basically, this Forester is the safest vehicle we've ever driven. The advanced safety options are your extra set of eyes, and even if you make a mistake on the road, this Subaru can help make course corrections that help everyone stay safe and sound on the road.
The best way to explore Subaru EyeSight is on your first test drive. Or, simply ask any new Subaru Forester owner how much safer they feel behind the wheel of a Forester.
Facelift
The
Forester
is a pretty face with an all-new refined design. It has an updated front bumper with a new hexagonal front grille. There are new headlights up front and brand-new LED headlights.
Out back, you'll get a new rear spoiler design on top-level trims, plus new tail lights and rear bumper design. The Forester features two new alloy wheel designs with high-contrast finish.
The Forester has a new Sepia brown exterior color option and saddle tan interior option.
Improved engineering
The all-new
2017 Subaru Forester
has an EPA estimated 26 city, 32 highway and 28 combined MPG, improvements over the previous model. With the new active torque vectoring, the Forester has reduced under steering and helps in the corners. In fact, this system was first introduced in the Subaru WRX, Subaru's performance vehicle.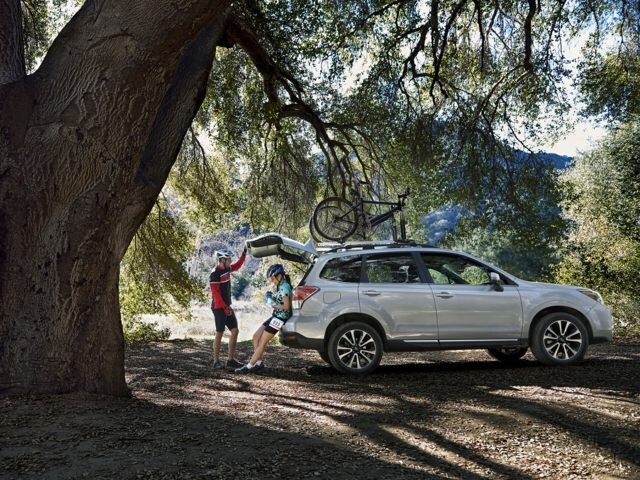 All Wheel Drive and Off Pavement Control
Of course the Subaru Forester comes standard with Symmetrical All Wheel Drive. It's one of the safest vehicles on any road or weather condition. Those who love camping, fishing, hunting or outdoor adventures love the Forester because of its ability to safely handle all conditions. It gets even better in 2017 with the new off-pavement control systems, built to provide even better wheel control on slippery surfaces and steep inclines.
Waikem makes it Easy
At Waikem
, you can easily park one of these 2017 Subaru Forester models in your driveway. We offer the area's lowest price on a new Subaru, along with the area's top customer service. If it's your first or fifth Subaru, we invite you to
get an online eprice toda
y and see for yourself why the Forester is so easy to put in your driveway.